"Jeff brought out a bunch of New York comics, great show, we walked away with over $6000 for the department."

- Cheif Craig Raynor South Hampton fire department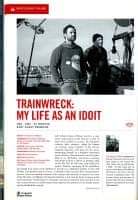 " Consider themes and ingredients of this memoir: dyslexia; ADD; alcoholism and its cousin, drug abuse; a crazy variety of jobs and occupations. You might say "Oh, here we go again. Another epic dysfunction." No, stop right there. This is a romp of a book, a rowdy ride and yes, there's a promise of that new American condition: redemption. The writing is leavened with a dazzling comic energy and you will want to cheer Jeff Nichols when he arrives at that sweet clearing in the woods."
-
Frank McCourt, Pulitzer Prize winner of best selling Agela's Ashes and long time teacher at Stuyvesant HIgh school
"(TrainWreck) is a startling halarious look at the messed up lane."
"Possibly Gretchen Mol's best performance to date."
"A brilliantly shot pic."
-Variety Magazine
(see full review under review section on this site)
"This book is the most entertaining and easily the funniest I have ever read in my life. Jeff is such a mess but such a great storyteller — a really talented writer. I loved every goddamn page."
-
Pete Correale, comedian,xm Radio host and star of the upcoming Comedy Central special, "The Things We Do for Love"
"We've worked for years with Jeff Nichols on — and offstage, writing and performing sketches, and while he's a borderline lunatic, he's also one of the funniest guys we've ever met. This book manages to let the best parts of him shine through while celebrating the worst."
- The Whitest Kids U' Know
"I highly recommend Jeff Nichols as a speaker for any school. He was a hit with both the faculty and the students. Many at Hunter High School feel that Jeff was one of the best guest lecturers we have had in some time, as he spoke from the heart and was extremely entertaining. The clips from the movie helped supplement his lecture, and his message of the dangers of A.D.D medication abuse was relevant."

-Neal Potter, Athletic Director/health teacher, Hunter College High School, New York, NY

"A funny/disturbing read...."

-New York Press

"I have always said that Jeff Nichols is one of the funniest men in New York City… Trainwreck will have you laughing out loud."
- Dan Naturman, comedian (Seven Conan apperances/ Tonight show/Comedy Central Presents)
"There's nothing worse than having a friend ask you to read her son's miserable memoir of wanton life abuse. I intended to read three pages and lie and cheat pretending I had read the clueless work. Instead, I read Trainwreck in one sitting. I didn't do any work all day long. It's that good. Don't buy this book or your day too will be ruined."
- Laurence Leamer, author of Madness Under the Royal Palms
"For an unusual twist, readers may turn to Trainwreck: My Life as an Idoit by Jeff Nichols. From Touchstone, this is the offbeat, funny memoir of an adult with ADD, dyslexia and other disabilities."

-Publishers Weekly

"How an idiot like Jeff wrote such a wonderful book is mind–boggling. Trainwreck is raw and funny and brutally honest… I highly recommend reading it."
- John Viener, comedian, writer, and voice actor on Family Guy

"A few years back I had the pleasure of watching stand-up comic Jeff Nichols perform at a large 12 step convention in NYC. I was attracted to his honest message of hope, and asked him to come to speak for me at Awareness week. He was a great success with the kids and the faculty: hysterical, informative and completely disarming. The Q and A was a blast."

-Yvette Diaz, former Guidance counselor/ activities board Stuyvesant High school Manhattan

"Train Werck is highly entertaining and interesting throughout."
-Punch LIne Magazine

"TrainWreck is very funny. Moreover, his brisk prose and short entertainingly titled chapters keep one turning the pages out of curiosity about what rude outrage Nichols will commit next."
-JesterJurnal.com


"I was intrigued by the subject matter of TrainWreck so I took a ride up to see the movie at Micheal Moore's Film Fesitival in Traverse City. The movie was interesting and Nichols almost blew the roof off the place during the Q and A with Moore. He is a very entertaining man; a gifted comic. And has a powerful anti Drug /alcohol message"

-Steven Welch, Professor of creative writing Western Michigan St University.


"TRAIN WRECK. What can I say? I went in reading this book with the tightened despondent face of a three year old having a spoonful of castor oil shoved into his yapper. And with the thick powerful tide of my rotten cynicism against it, this god damn book had me howling! This head wound ridden A-hole with a gifted knack for disaster, provides endless laughs as he maneuvers through self inflicted catastrophe in the unlucky and victimized industries he decides to embark on. They say, "A man should know his limitations." Well, if laughter is what you're looking for, come read about a man who not only takes a shit on this concept, but throws a giant sack over his shoulder stuffed with a heap of mental disorders, and lays waste to the worlds of commercial fishing, substitute teaching, and anything else his short circuited instincts tell him he can succeed in. No matter how you slice it, or spell it, this guy's an IDOIT. Have fun, I sure did. I give it four stars, three for being great, one because this guy is half retarded."

-Russ Meneve, comedian-(tonight show, HBO, Comedy Central presents etc)

"Trainwreck has given Nichols a way to reorganize and re-imagine his life not only as a functioning human being in society, but as a capable, funny, and smart writer."

-Lindsay Campion Writer/ reviewer (see review page for full review)

"Though they were very different, I enjoyed both the book TrainWreck and the film, they both captured the plight of the learning disabled well."

-Dr. Fran Clifton The Farren Center NYC

"A funny read."

-Plam Beach Daily News

"Jeff was great, he provided insight into the strugles that people have with learning disablities. Everyone had a goood time."

-Barbara Sharadon, Kind Foundation Director